It's Just Too Damned Spooky to Hold USD these 'current' End Days...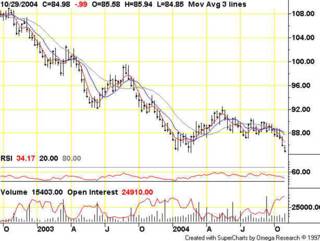 Some Asian Article stating the USD to weaken
over 20-30% more in the next two years, I could
see that as a possibility(I couldn't find the article),
but let's just take a two year weekly look at the Dollar
Index during the Bush Jr. term... Still approaching
oversold on the RSI, big sell off in October with heavy
volume to back it, I'd say, overall, I don't see any
consolidation or retracement coming up anytime time
soon, especially with the poor Advanced GDP number
released last Friday... If I get my hands on the article,
I'll go more in depth. Right now, I have diarhea and it's
110am(feels like 210am since it's EST now).